The Season of Love Is Here and There's No Better Place to Celebrate Than the "Most Romantic" Spot Around!
A jam-packed Valentine's Week like no other features a slew of Twin Cities musical sweethearts – among them Davina & The Vagabonds, Connie Evingson, Maud Hixson, Lush Country and Erin Schwab.
Crooners Valentine's Week
This Funny Thing Called Love
A romantic Valentine's show with jazz vocalist Connie Evingson will put us all in the mood for love. She's a staple of the local jazz scene, with shows at the Jungle, and regular appearances at Crooners. It's time for us all to get a little closer, with the Minnesota born-and-raised "A Prairie Home Companion" alum as our guide and inspiration.
Music By Lovers - Acclaimed Musical Couples
Lisa Wenger hosts "Music by Lovers," our annual show of love, as four acclaimed Twin Cities musical couples -- Jennifer Grimm & Joe Cruz; Camille Gross & Chris Olson; Marie-Louise Knutson & Michael B. Nelson; and Laura MacKenzie & Gary Rue -- come together for a special evening of musical conjugality.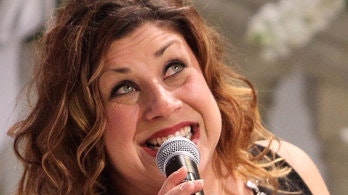 Valentine's with Erin Schwab
Songstress and comedian Erin Schwab makes light of love in this hilarious and entertaining ode to all the things people do to make a glorious mess of it. A beautiful, romantic and laugh-out-loud funny evening of song headlined by the Bette Midler of the Twin Cities
Who Wouldn't You Love? A Tribute to Steve & Eydie
The "gently virtuosic jazz vocalist" (All About Jazz) Maud Hixson and the crooner Jason Richards make it a date as they salute the love songs and chemistry of Steve Lawrence and Eydie Gormé. This brand new show is a celebration of that classic mid-century couple. With Rick Carlson on piano.
King of Soul - The Music of Otis Redding
Mick Sterling presents Mark Lickteig in "King of Soul -- The Music of Otis Redding Valentine's Show." Twin Cities soul icon Mark Lickteig makes his Crooners debut as he belts the hits of the love man himself, Otis Redding for an unforgettable Valentine's Day experience. With special guests and legends of the Twin Cities music scene Curtiss A. and Maurice Jacox.
Cookie Coleman & Patrick Frederick
It's a Lush Country Valentine as this fine collection of "A Prairie Home Companion" band alums and regulars (Prudence Johnson, Dan Chouinard, Gary Rue, Richard Kriehn, Joe Savage, Gary Raynor, and Peter Johnson) play classic country love songs of the hi-fi era, from the '40s and '60s.
Ginger Commodore & Debbie Duncan Salute 'The Queen of Soul'
Joyann Parker Sings Patsy Cline
Back By Overwhelming Demand!
Bubbling up from the hot core of the American south, and cold-filtered through a Bold North sensibility, Davina & The Vagabonds, led by bandleader Davina Lozier, is one of this town's favorite and most acclaimed acoustic ensembles! There's no better antidote for the blues than this blues-roots jazz juggernaut.
Ranked Best Jazz Club in 2018 by City Pages, Crooners is proud to feature a widely eclectic range of styles, backgrounds and generations. With its definitive listening policy that asks audience members to give their full attention to the shows on stage, and its emphasis on relaxed civility, Crooners is a music-focused supper club with two distinct music venues – the Crooners MainStage and the Dunsmore Jazz Room. Music charges generally vary from $15 to $45. Crooners is located at 6161 Highway 65 NE, Minneapolis, MN. For information or to purchase tickets in advance call 763-760-0062, or click below.